Bioassays: Scientific Approaches and Regulatory Strategies
This is a premier Bioassay symposium that presents a truly unique opportunity for attendees to interact with key industry thought leaders and discuss topics such as current perspectives, strategies, and technologies used for bioassays. The program will include speakers, panel discussions, posters, exhibitors, and networking opportunities. This symposium promises to maintain the tradition of high-quality case studies and scientific discussion that enables an additional focus on the technical and regulatory details of each topic. Plan on joining us for what will surely be an informative conference on the current thinking, strategies, lessons learned, development, and standardization of methods and technologies used for bioassays.
Reasons to Attend Bioassays:
Learn about the latest developments in bioassay strategy along with current technical and regulatory perspectives
Hear talks and case studies on current trends within the field from both industry and regulatory leaders
Participate in interactive panel discussions that encourage lively dialogue between all attendees
Network with peers and vendors to obtain new ideas that you can bring back to your team
Click on the links below to view Speaker Presentations from the most recent meeting.
2023 Speaker Presentations
Save the Date
Mark your calendars for Bioassays 2024 on April 15-17, 2024 in Gaithersburg, MD. Registration will be available soon.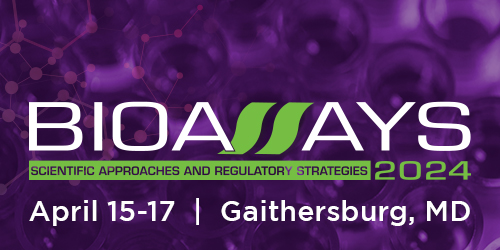 CASSS On Demand
Access approved content from past meetings in the NEW CASSS On Demand platform. CASSS members have access to all available presentation recordings starting in April 2020. Visit https://ondemand.casss.org, login to your account, and select from the list of meetings to begin.
Review Resources
Want to revisit a keynote presentation? Missed important details that may impact your work?
Visit Papers and Presentations to access relevant presentations, summary papers, and roundtable notes.