CE Pharm Award for Sustained and Significant Contribution to the Practical Application of CE to the Analysis of Biotechnology and Pharmaceutical Products
The CE Pharm Award recognizes individuals with sustained and significant contributions in the practical application of CE to the analysis of Biotechnology and Pharmaceutical products.
Nominees should exhibit one or several of the following qualifications:
Advocate for CE in the Biotechnology and Pharmaceutical Industry
Have a reputation as a leader in developing or implementing various CE applications
Possess a Technical reputation, in terms of number of Presentations, Publications and Patents.
Show past Dedication to CE Pharm meetings as speaker, tutor, poster presenter or committee member.
Be a Mentor and advisor of industrial-based CE practitioners in other industrial regions such as food chemistry, forensics and clinical applications.
Nominations will open next summer.
For additional information on the CE Pharm Award, including a detailed description of the selection process, please contact Julie Harris.

2021 CE Pharm Award Recipient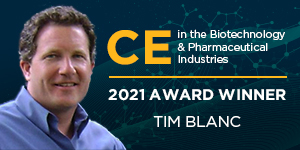 Timothy Blanc was selected by the CE Pharm Organizing Committee for his many accomplishments in the capillary electrophoresis community. From his involvement in the development of the first commercial capillary electrophoresis instrument to his outstanding contributions as a mentor and leader in the field, Tim has worked continuously to promote methods that enable accelerated and more cost-effective biopharmaceutical development. He is currently an associate director/principal scientist of technical services and manufacturing sciences in the Global Mab Network at Eli Lilly and Company.

CE Pharm provides an interactive forum for the discussion of CE in the pharmaceutical and biotechnology industries, including regulatory considerations. The forum also provides a venue for industrial CE practitioners to meet, network, and exchange knowledge for mutual education. This year's meeting was held virtually September 13-16, 2021.

Tim has been an active participant of the symposium for many years, sharing his expertise as co-leader of the annual CE Pharm Troubleshooting Workshop and also participating on the organizing committee for the last decade. The CE Pharm organizing committee stresses the interdependence of pharmaceutical companies, regulatory agencies, academia and manufacturers. Tim is recognized for his remarkable demonstration of this philosophy through his work spreading "experiential knowledge" to all members of the CE community.