Volunteers are the Power of CASSS
CASSS is a global, member-driven association for professionals in the field of biopharmaceutical development and regulation. Our primary service to our members is the networking and knowledge sharing that occurs at our conferences and moves the field forward. It is through the tremendous efforts of our volunteers that CASSS has grown as an organization with a far-reaching impact in analytical and regulatory science.

Get Involved! Opportunities Available Listed Below
Volunteer opportunities with CASSS range from short-term volunteer projects to committee, task force, and board service. With every new volunteer, CASSS grows more energized, more diverse and inclusive, and better equipped to reach our common goals.
As they become available, CASSS will post current volunteer opportunities here. To be eligible to serve on a committee, volunteers must be a Regular Member of CASSS in good standing, which according to the policies of CASSS entails having attended a CASSS meeting (symposium or forum) at least once in the prior 3 years and have the relevant experience and network to contribute to the work of the committee.
---
DC Discussion Group Call for Committee Volunteers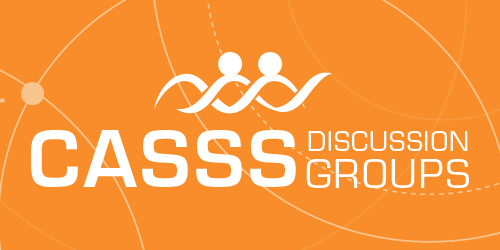 Are you interested in getting more involved with CASSS? The DC Discussion Group (DCDG) is currently seeking volunteers. Participation in the Committee is an incredible way to connect with CASSS members, collaborate with peers, and develop programs that directly support the mission and objectives of CASSS. Committee member contributions will vary throughout the year; however, this position will require two to four hours of your time per month.
If you live in the Washington D.C. metropolitan area and you are interested in joining the Organizing Committee, please contact Mikaela Sanford (msanford@casss.org) for more information.
Code of Conduct
CASSS is committed to providing a safe, productive, and welcoming environment for all meeting participants and CASSS staff. All participants, including, but not limited to, attendees, speakers, volunteers, industry, partners, exhibitors, CASSS staff members, service providers, and all others are expected to abide by this Code of Conduct.