William S. Hancock Award for Outstanding Achievements in CMC Regulatory Science
The Hancock Award recognizes outstanding and sustained contributions to the field of CMC regulatory science. Past recipients have been instrumental in enabling the availability of high-quality life-saving medicines derived from recombinant technology on a global basis.
The Vice-President of the Board is designated as chair of the selection committee. Annually, he or she will select three board members to serve for that year. The committee will nominate individuals that meet the award citation requirements, and subsequently make a (unanimous) selection for endorsement by the CASSS Board by September of each year.
Eligible nominees achievements should include significant contributions to the advancement of scientific principles, applied technologies and/or science-based regulations in the areas of manufacturing process, technology development, characterization, analysis and quality of biotechnology-derived pharmaceuticals.
Current members of the CASSS Board of Directors are not eligible for nomination.
2023 William S. Hancock Award Recipient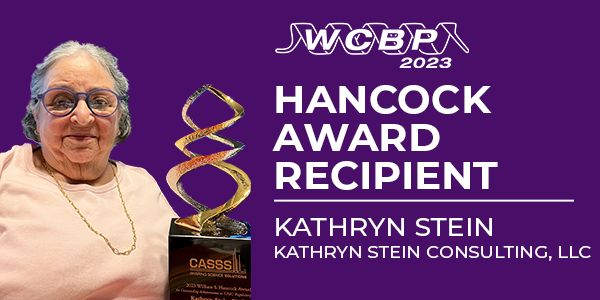 CASSS has honored Kathryn Stein, PhD with its prestigious Hancock Award for Outstanding Achievements in CMC Regulatory Science. This annual award recognizes outstanding and sustained contributions in the field of regulatory science. Stein was announced as the 2023 honoree during CASSS' 26th Symposium on the Interface of Regulatory and Analytical Sciences for Biotechnology Health Products (commonly referred to as WCBP), held in Washington, DC on January 24-26.
I want to thank all my technicians, students, post-docs, staff [and] fellows for all their contributions to the research in my lab, which provided me the time to work on regulating vaccines and monoclonals," Stein said after accepting the award, "In my wildest dream I didn't think I could turn on the television and see [monoclonals], as well as conjugate vaccines, advertised every day."
"Although my research focused on meningococcal group C polysaccharides, I reviewed Haemophilus influenzae type B conjugate vaccines for human use. It was the most gratifying aspect of my career, to see them approve for use in toddlers and infants and to witness invasive Haemophilus disease disappear," Stein said.
"Katy was a great choice to be the director of DMA. She understood the potential of the class of products, understood the reasons for the early failures, but had a vision for an approach to regulating mAbs and related products." Shapiro said, speaking of what made Stein worthy of being the 11th recipient of the award.
Stein has retired twice, once from the FDA before working at MacroGenics, then again in 2016. She spent several years working part-time as a consultant and is now Principal at Kathryn Stein Consulting, LLC where she utilizes her experience from her illustrious career by consulting in the biotechnology space for biotech, venture capital, and legal firms.