The Hancock Award for Outstanding Achievements in CMC Regulatory Science
William S. Hancock Award for Outstanding Achievements in CMC Regulatory Science
The Hancock Award award recognizes outstanding and sustained contributions to the field of CMC regulatory science. Past recipients have been instrumental in enabling the availability of high-quality life-saving medicines derived from recombinant technology on a global basis.
The Vice-President of the Board is designated as chair of the selection committee. Annually, he or she will select three board members to serve for that year. The committee will nominate individuals that meet the award citation requirements, and subsequently make a (unanimous) selection for endorsement by the CASSS Board by September of each year.
Eligible nominees achievements should include significant contributions to the advancement of scientific principles, applied technologies and/or science-based regulations in the areas of manufacturing process, technology development, characterization, analysis and quality of biotechnology-derived pharmaceuticals.
Current members of the CASSS Board of Directors are not eligible for nomination.
2020 William S. Hancock Award Recipient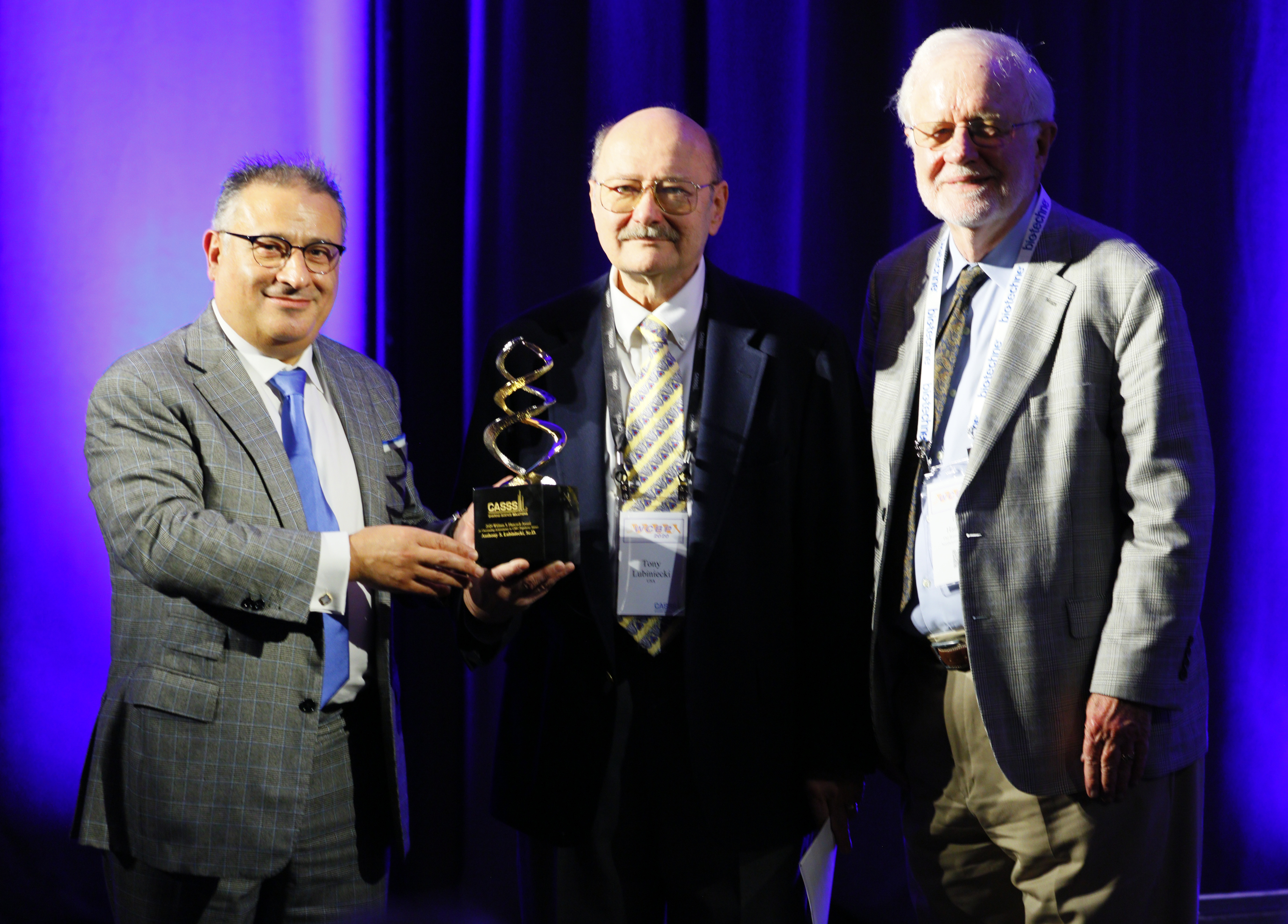 Wassim Nashabeh, left, and Bill Hancock, right, present the 2020 William S. Hancock Award to recipient Tony Lubiniecki, middle.
CASSS has honored Tony Lubiniecki, Sc.D. with its prestigious Hancock Award for Outstanding Achievements in CMC Regulatory Science.
This annual award recognizes outstanding and sustained contributions in the field of regulatory science. Lubiniecki was announced as the 2020 honoree during CASSS's 24th Symposium on the Interface of Regulatory and Analytical Sciences for Biotechnology Health Products (commonly referred to as WCBP), held in Washington, D.C., January 28-30.
"I am honored," Lubiniecki said in accepting the award, "And humbled; because while it is I who is being honored today, the reality is that it takes thousands of hours by hundreds of people to produce these biological products that improve the lives of patients."
In his comments to introduce this year's honoree, CASSS President Wassim Nashabeh shared highlights of Lubiniecki's long career. Among his achievements:
Started his career as an Assistant Research Professor of Microbiology at the Graduate School of Public Health (University of Pittsburg) working on the development of Dengue Vaccines in the 1970's.
Worked on Cell Culture Process Development at Genentech working on the first CHO-derived biologic (tissue plasminogen activator) in the 80's.
He had an extended career at GSK as Vice President of Biopharmaceutical Development and at J&J/Centocor as Head of Technology Transfer and a Senior Fellow.
He has had over 100 publications in peer-reviewed journals.
His had extensive external engagement in shaping the regulatory environment and played a key role to ensure that science is embedded in the developing regulatory processes for the nascent biotechnology industry.
He worked through both industry associations (PhRMA & BIO) for almost 30 years, where he became the Chair of the Biotechnology Committee and was part of the development of 7 ICH guidances focused on Biotech, mainly all the Q5 series (A, B, C, D and E) as well as Q6B and Q7. Tony has also served as a Rapporteur for Q5D as well as Q5E on comparability, arguably one of the most foundational ICH guidance's for Biotech products that sets the basis for global biotech manufacturing, product transfers and eventually biosimilarity.
He has played a key role in the International Alliance for Biological Standards, serving on its board for over 20 years.
Editor of the internationally regarded journal Biologicals.
Served on the CASSS Board of Directors from 2016 – 2019.
Above all, Nashabeh said, "Tony embodies the early pioneering spirit that made this field what it is…follow the science, question the status quo and never falter in pursuing the unknown." Nashabeh continued, "I think most of us, one way or another, owe our presence here to this pioneering spirit and to leaders like Tony who founded this industry, shaped it to what it has become and serving millions of patients worldwide.
When not spending time with family and learning to play the cello, Dr. Lubiniecki is writing a history of biotechnology CMC. The book is based on interviews and conversations with senior CMC biotechnologists who participated in the development of the field during the past 35 years.