Discussion Groups
Discussion Groups are intended to enable the local area community of industry, academic and regulatory professionals to meet and share ideas and experiences, thereby working together to resolve scientific challenges in the field of biopharmaceutical development and regulation. The CASSS Discussion Groups are your opportunity to meet others who understand what you do, in an informal setting, and exchange new ideas. Discussion groups currently take place virtually and in-person in North America: DC Area and North Carolina and Europe: The Netherlands.
For more information, visit the Discussion Groups Site
2022 Speaker Presentations
Register
Join us virtually from anywhere in the world for DC Discussion Group on September 14, 2022. Registration will close September 13, 2022.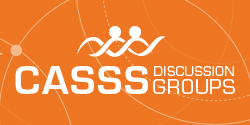 Review Resources
Want to revisit a keynote presentation? Missed important details that may impact your work?
Visit Papers and Presentations to access relevant presentations, summary papers, and roundtable notes.