Cell & Gene Therapy Products
Cell and Gene Therapy Products: Manufacturing, Quality and Regulatory Considerations

The CASSS Cell and Gene Therapy Products (CGTP) symposium enables the exchange of scientific ideas and dialogue with regulators that form the basis of evolving regulatory practices in the development of these diverse and innovative products. The CGTP Symposia will explore how to continue to adapt concepts applied to other biologics and how to establish novel approaches where they are needed.
Reasons to Attend CGTP:
Gain an overall, in-depth understanding on what your peers are doing in the industry
Hear updates on the latest regulatory trends
Live interactive experience to share with other cell and gene therapy experts from academia, industry, regulatory and vendors
Obtain new ideas, tips and best practices
For more information, contact Symposium Manager Randi Jacobs.
Click on the links below to view Speaker Presentations from the most recent meeting.
Thank You for Joining Us
We appreciate your participation in Cell & Gene Therapy Products 2022 and hope you consider joining us at Cell & Gene Therapy Products 2023 taking place June 26-29, 2023 in North Bethesda, MD USA.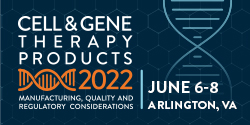 Review Resources
Want to revisit a keynote presentation? Missed important details that may impact your work?
Visit Papers and Presentations to access relevant presentations, summary papers, and roundtable notes.