Practical Applications of Mass Spectrometry in the Biotechnology Industry
The focus of this Symposium is the practical application of mass spectrometry (MS) in the biotechnology industry. Mass Spectrometry is a critical analytical technology used in the discovery, development, and commercialization of biopharmaceuticals. Mass Spec symposium provides an interactive forum to share experiences, insights, and novel developments between industry, academia, and regulatory agencies worldwide. The goals of the symposium are to communicate best practices and innovative approaches for mass spectrometry applications in biopharma, as well as promote colleague networking and open discussions, thereby allowing attendees to advance their own projects more efficiently and confidently.
Reasons to Attend Mass Spec:
Discuss the importance of MS in early stage development for molecular design and developability studies, including bioactive PTM elucidation, hotspot analysis and biotransformation studies
Use of MS in conventional characterization methods such as intact protein analysis, peptide mapping, ion exchange HPLC, capillary electrophoresis, etc. for elucidating and monitoring product quality attributes, as well as use of MS for process design and the analysis of process-related impurities, such as host cell proteins
Introduction of MS in the QC laboratory, validation/transfer/compliance strategy, system suitability/assay acceptance criteria
Learn about expectations from regulatory agencies on MS based assays for product characterization, comparability, biosimilarity, release and stability, lifecycle management, gene therapy, new modalities
Benchmarking of new technology, and advances in automated data analysis software for MS and best practices for sharing MS results
For more information, contact Symposium Manager Carolyn Slade.
Click on the tab titles below to view Speaker Presentations and Roundtable Notes from the most recent meeting.
Thank You for Joining Us
We appreciate your participation in Mass Spec 2022 and hope you consider joining us at Mass Spec 2023 taking place September 6-8, 2023 in Chicago, IL.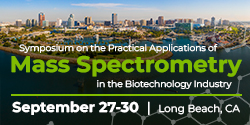 View On-Demand Content
Thank you to all who participated in CASSS' Symposium on the Practical Applications of
Mass Spectrometry in the Biotechnology Industry 2022.
To access this content, visit Digitell, login to your account and select Practical Applications of Mass Spectrometry in the Biotechnology Industry from the list of past events. Visit the On Demand Presentations and Speaker Slides tabs to view available content.
Review Resources
Want to revisit a keynote presentation? Missed important details that may impact your work?
Visit Papers and Presentations to access relevant presentations, summary papers, and roundtable notes.