Agenda/Scientific Program
Session I - Tuesday, 6 June 2023 | 13:00 BRT
Why Optimize the Submission and Review of CMC Post-Approval Changes? Global Trends and Challenges for Latin America
Session II - Tuesday, 19 September 2023 | 13:00 BRT
Pathway to Optimizing Submission and Review of CMC Post-Approval Changes: Employing Scientific Risk-Based Principles, Reliance Pathways, Adoption of WHO Post-Approval Guidelines, and Collaborative Assessments
Session III - Tuesday, 7 November 2023 | 13:00 BRT
One Single Dossier for Global Submissions:
The Role of Regulatory Convergence and Harmonization to Improve Efficiency and Reduce the Regulatory Burden of CMC Post-Approval Changes

Click on the tab titles below to view session details.
Session III Program | 7 November 2023
NOTE: All times are Brasilia Time (BRT).
Overview
13:00 - 13:10
CASSS & CMC Strategy Forum Latin America 2023
Welcome and Introductory Comments



13:10 - 14:30

One Single Dossier for Global Submissions:
The Role of Regulatory Convergence and Harmonization to Improve Efficiency and Reduce the Regulatory Burden of CMC Post-Approval Changes
Session Co-Chairs:
Daniela Manzoli Bravo, AbbVie SA
Ana Padua, EMD Serono
Silmara Cristiane da Silveira Andreoli, ANVISA

Imagine a world where a single dossier can be used worldwide, reducing the regulatory burden for industry and regulators, and accelerating access to better quality therapeutical products to the patients. Although it seems a very long-term new world to prospect, lots of ongoing global initiatives are contributing to this result. The international convergence and harmonization on the regulatory requirements are the first steps that need to be achieved to reduce the global regulatory complexity and support this outcome, but they are still challenges to overcome.

The first and second editions of the CMC Strategy Forum Latin America explored how the CMC post-approval changes represents a significant and increasing workload for regulators and industry and approached some potential solutions for the much-needed regulatory agility and effectiveness, as the convergence with international standards and the implementation of best practices such as reliance and collaborative assessments.

The third edition of the CMC Strategy Forum Latin America will continue to explore the challenges for achieving the desirable convergence and harmonization for the CMC post-approval changes and the consequences of the diversity of requirements, as well as some ongoing initiatives that support the "one single dossier" to become a reality in the future.



14:30 - 14:40


Break


14:40 - 15:40

Panel Discussion


15:40 - 15:45
Closing Remarks

15:45

Adjourn Session III

Session I Resources | 6 June 2023
Session II Resources | 19 September 2023
Save the Date
Mark your calendars for Session III on 7 November 2023 virtually from anywhere in the world. Registration will be available soon.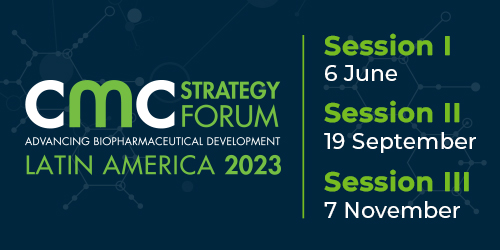 Review Resources
Want to revisit a keynote presentation? Missed important details that may impact your work?
Visit Papers and Presentations to access relevant presentations, summary papers, and roundtable notes.
CASSS On Demand
Access approved content from past meetings in the NEW CASSS On Demand platform. CASSS members have access to all available presentation recordings starting in April 2020. Visit https://ondemand.casss.org, login to your account, and select from the list of meetings to begin.