CMC Strategy Forum North America
The CMC Strategy Forum has established an excellent reputation for being the premier scientific meeting that brings together regulatory, industry and academic professionals to discuss key emerging CMC issues that affect biotechnology in an open and transparent workshop format. The Forum had its beginning in the United States in 2002, with three Forums now being held each year. The purpose of the CMC Strategy Forum is to provide a venue for biotechnology/biological product discussion on relevant CMC issues throughout the lifecycle of a product. The outcomes of the Forums are:
To foster collaborative technical and regulatory interactions that advance discussions to consensus concepts; and
To provide the information to the Regulatory Agency to allow them to merge good scientific practices with good regulatory practices for our mutual benefit.
The success of the Forum series further demonstrates the benefits and the need for providing an open forum for dialogue and exchange of scientific and technical advances that are the basis for evolution of regulatory practices.
For more information, contact Carolyn Slade.
Click on the tab below to view Speaker Presentations from the most recent meeting, as well as all Summary Papers.

2023 Speaker Presentations
CASSS On Demand
Access approved content from past meetings in the NEW CASSS On Demand platform. CASSS members have access to all available presentation recordings starting in April 2020. Visit https://ondemand.casss.org, login to your account, and select from the list of meetings to begin.
Thank You for Joining Us
We appreciate your participation in CMC North America 2023 on July 17-18, 2023 and hope you consider joining us at CMC North America 2024 on January 22, 2024. Registration will be available soon.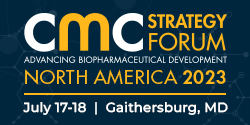 Review Resources
Want to revisit a keynote presentation? Missed important details that may impact your work?
Visit Papers and Presentations to access relevant presentations, summary papers, and roundtable notes.