July 15, 2022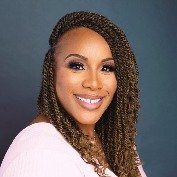 CASSS is pleased to announce hiring Necoya Tyson as the new Director of Meeting Operations. In this role, Ms. Tyson will help lead and grow CASSS' event portfolio – a key member value – in a post-COVID world.
Most recently Ms. Tyson served as the Vice President of Education & Events for the Texas Bankers Association. With more than 17 years of experience, Tyson has worked with various national associations in the Washington, D.C. area, including the American Traffic Safety Services Association (ATSSA) as the director of meetings & conventions, NTP Events, Inc. as the director of operations and conferences, and the Society of American Military Engineers, as the meetings and exhibits manager.
"The CASSS team and I believe Necoya is the ideal candidate for this new role," said Stephanie Flores, CASSS' Executive Director. "We were impressed by her leadership in the industry and track record developing teams that drive results".
A graduate of Shaw University with a bachelor's degree in mass communications, she is also a certified corporate event planner, certified exhibition manager-advanced professional, and certified government meeting professional.
As CASSS' newest senior staff member, Tyson will also launch and execute additional meetings to help the organization expand its value. You may reach out to her by email at ntyson@casss.org.