Agenda/Scientific Program
View the full Scientific Program Additional Workshop Info
Keynote Speaker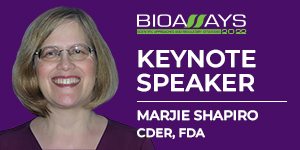 Dr. Marjorie Shapiro received her Ph.D. in immunology from the University of Pennsylvania where she studied molecular mechanisms underlying antibody diversity. She joined the Division of Monoclonal Antibodies/FDA in 1993 and is currently a Lab Chief in the Division of Biotechnology Review and Research 1, Office of Biotechnology Products. She is known for her expertise in therapeutic monoclonal antibodies and related products such as antibody-drug conjugates, bispecific antibodies, antibody cocktails, Fc-fusion proteins, as well as biosimilars.
Building a Better Bioassay: Workshop on Bioassay Development
This bioassay development workshop will begin with an overview of the basic tools required for success: analyst training, critical reagent maintenance, laboratory/equipment set-up, assay formats, cell maintenance, propagation and banking, as well as regulatory expectations for Phase I/I/III clinical trials.
This workshop will take place on Tuesday, July 19, 2022 at the Gaithersburg Marriott Washingtonian Center and will be offered in-person only (no live streaming).
Register
Join us in-person or virtually from anywhere in the world for Bioassays 2022. Registration is open.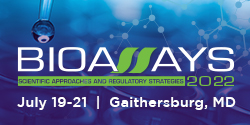 Engage with Exhibitors
Bioassays 2022 is giving you a wide range of opportunities to engage with exhibitors.
Whether you are attending in-person or participating virtually, there are multiple ways to connect with our partners to learn about their products, services and how they can better serve you.