Agenda/Scientific Program
Keynote Speaker
Helena Madden is a Senior Director of CMC Regulatory Affairs at bluebird bio where she oversees life cycle management of bluebird's commercial gene therapy products. Prior to joining bluebird Helena worked for 19 years at Biogen leading the Regulatory CMC aspects of Biogen's products in Japan and previously directing Biogen's Analytical Development (AD) team. In AD she was responsible for establishing a process-related impurity method development group and a bioassay development group. Before joining Biogen, Helena worked for Oncogene Research products where she developed bioassays, immunoassays and various apoptosis methods.
Helena holds a Ph.D. in Biochemistry from Boston University School of Medicine and a B.S. in Medical Technology from Northeastern University. She has extensive experience in hematology and cell differentiation from her post-doctoral training at Harvard Medical School / Deaconess Hospital.
Workshop: Potency Assay Strategies for Biopharmaceuticals and for CGT Therapeutics
April 17, 2023 | 13:00 – 17:00 EDT
Facilitators: Michael Sadick, Precision Biosciences and Jyoti Velayudhan, Seagen Inc.
The Bioassays Potency Workshop will review the following: What questions does a potency assay address? What is required for a well controlled potency assay? and more.
Register Now
Join us in-person for Bioassays 2023 on April 17-19, 2023. Registration will close March 31, 2023.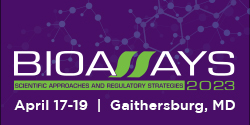 Engage with Exhibitors
Bioassays 2023 is giving you a wide range of opportunities to engage with exhibitors.
There are multiple ways to connect with our partners before and during the Symposium to learn more about how their products can better serve you.